I have recently been working with production company Lupus Films on producing a website for their hand-drawn animated feature, Ethel & Ernest that is in cinemas across the UK from 28 October. The film brings to life the graphic novel of the same name, by British author and illustrator Raymond Briggs, that tells the story of his parents' lives.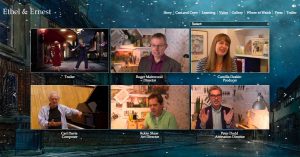 The site is an essential resource for teachers, students and animation enthusiasts with its combination of original artwork, interviews with the crew, and custom-made activity sheets designed to give an insight into the production process and the historical context of the film.
I worked with the designers at Thud Media, the educational consultants at Into Film, and the team at Lupus Films to ensure that the site provides plenty of rich content in an accessible form, whilst showcasing the film's beautiful artwork.
Check out the Ethel & Ernest site and enjoy discovering how this incredible feature film was made.