I recently presented a selection of films from Ars Electronica Animation Festival at the Austrian Culture Forum London. This was the third year that they invited to me to curate a programme, and this time I was fortunate to be able to also chair a panel afterwards and speak with three brilliant artists who all had a connection to Ars Electronica: Sophie Clements (2014 Prix Ars Electronica Nominee for Heimcomputer), Joe Gerhardt from Semiconductor (2014 & 2015 Prix Jury: Computer animation / Film / VFX) and Alan Warburton (2014 Prix Ars Electronica Nominee for Spherical Harmonics). This was particularly enjoyable as Alan's Spherical Harmonics was co-commissioned by Animate and The Photographers' Gallery and any opportunity to screen and discuss the work is always most welcome by me.
This selected programme is designed to challenge the notion of what animation is and how it can be used to represent or manipulate reality. The films show the breadth of what it is possible for artists to construct, whether they be using techniques that are cutting edge or have been around for decades. And it is apparent that some of these films are creative outlets for those who are skilled CG artists, commercial directors and VFX artists.
The first film BOX, is something you may have already seen as it has been a bit of a viral sensation. It combines animation, projection mapping and robotics to bring CG into the real world of what is essentially documentation of a clever live performance. At the end of the film they quote Arthur C Clarke's Third Law: 'any sufficiently advanced technology is indistinguishable from magic.' A sentiment that can be applied to much animation today, including the films selected for this programme, that it is both enchanting and at the same time a little mystifying for those who aren't in the know.
Box, Bot & Dolly (US), 5'25"
---
Buzzard, Gero Doll (NA) & Olivier Girardot (FR), 3'30"
---
Heimcomputer, Sophie Clements (UK) & Toby Cornish (DE), 7'30"
---
Late for meeting, David Lewandowski (US), 2'00"
---
Land, Masanobu Hiraoka (JP), 3'30"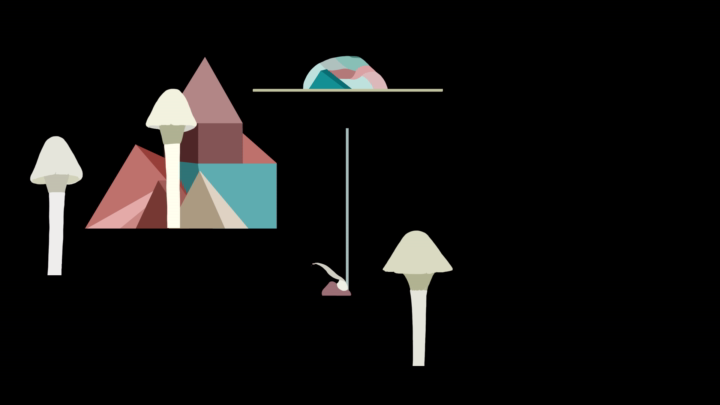 Watch the film on the Ars Electronica site.
---
Beatcam, Oscar Gonzalez Diez (Plastic Science) (UK), 1'32"
---
Linear, Julia M Müller (DE), 2'54"
---
Kangaroos Can't Jump Backwards, Rafael Mayrhofer (AT) 2'24"
---
Spherical Harmonics, Alan Warburton (UK), 5'08"
---
Futon, Yoriko Mizushuri (JP), 6'02" 
---
Lonely Bones, Rosto (NL), 10'00"