I am so delighted to be able to announce that today Johnno's Dead walked away with the Best British Film Award at the London International Animation Festival 2016. The Festival Jury gave some lovely comments, saying that the film was "powerful and unsettling" and "quintessentially British, quintessentially Chris Shepherd".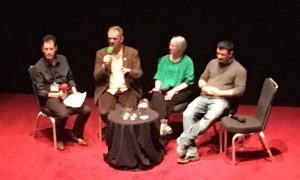 It has been a good few days for Johnno's Dead, with its premiere screening taking place at the festival's prestigious opening night gala, in a retrospective programme of Chris Shepherd's work, then screening in the 'Into the Dark' International Competition programme. At the opening gala there was also a discussion with Chris, myself and actor Chris Freeney on how Johnno's Dead was made, and how it followed on from the cult classic Dad's Dead, picking up the story twelve years later. It was much fun to revisit the production and all the fun we had making it.
Thanks so much for the award, LIAF!
Johnno's Dead next screens at the London Short Film Festival in January, then the Clermont-Ferrand International Short Film Festival's Lab Competition in March.
Photo: @londonanimation