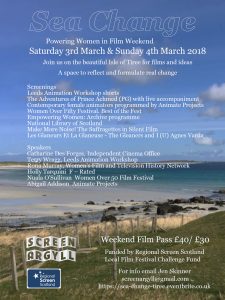 I am delighted to have been invited by Jen Skinner at Screen Argyll to participate in the Sea Change: Powering Women in Film Weekend, reflecting on the state of the industry alongside some exceptional women working in film today.
Speakers include: Catharine Des Forges, Director of the Independent Cinema Office; Terry Wragg, founder of Leeds Animation Workshop; Rona Murray, Women's Film and Television History Network; Holly Tarquini founder of F–Rated; and Nuala O'Sullivan director of the Women Over 50 Film Festival.
The weekend takes place on 3 and 4 March at Alan Stevenson House on the beautiful Isle of Tiree in Scotland.
On Sunday 4 March I'll also be presenting a selection of films based on the Female Figures animation programme that I presented at LIAF 2017 but with some new additions.
The programme features:
G-AAAH, Elizabeth Hobbs, 2', 2016, UK
Love-in-idleness, Kim Noce, 4', 2016, UK
Superbia, Luca Toth, 16', 2016, Hungary
Beneath the Surface, Yero Timi-Biu & Jessica Ashman, 3', 2017, UK
Lying Belly, Alice de Barrau, 4', 2016, UK
Moms on Fire, Joanna Rytel, 13', 2016, Poland
Pink, Mahboobeh Mohammadzaki, 5', 2016, Iran
Branches of Life, Katerina Athanasopoulou, 4', 2016, UK
I Like Girls, Diane Obomsawin, 8', 2016, Canada
For more information and to book head over to Eventbrite.
Image and poster courtesy of Screen Argyll.