The past month I've been spending a lot of my time travelling about in South Korea and the South West of England, giving me ample opportunity to play games on various devices. So in true Mashable style here are my current Top 3 good looking games for the casual gamer:
1.    Limbo
Platforms: Mac, PC, PS3, Xbox360
Although this is not a new game having been around since July 2010, it's one that never fails to impress. Designed by Danish developers Playdead, this gothic platform adventure has now won more than 90 awards for its stunning design and absorbing storyline. Plus the soundtrack by Martin Stig Andersen is delightfully haunting.
Playdead have now honoured the success of Limbo with a special collector's edition disc.
2.    McPixel
Platforms: PC, Mac, iPhone, iPod, iPad, Android, Blackberry, Commodore 64
An anarchic 8-bit arcade game with a simple premise – you have just 20 seconds to work out how to detonate a bomb before it blasts. Each level has a silly scenario for you to decipher with the solution usually being pretty bizarre.  McPixel = good fun.
3.    Super Hexagon
Platforms: iPad, iPhone
If you're into action games that truly challenge your hand to eye coordination and like the thought of staring into a hypnotising spiral as you try to control your cursor then dare to play this game. It is super hard. That said, Super Hexagon has a lovely minimalistic design by Terry Cavanagh and good retro music by Chipzel. Just look at how great the visuals are.
Bonus – PicTarot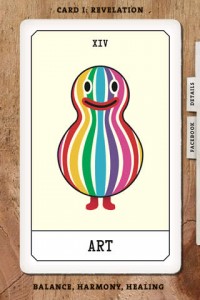 Platform: iPhone, iPad, iPod
Like a trendy Magic Eight ball of apps this beautiful entity will assist you in divining your destiny. Created by German character design advocates Pictoplasma, PicTarot includes 78 artworks by some of the best character artists around including Gary Baseman, McBess, Julia Pott, Ben Frost and Sascha Hommer. Regardless of whether you're spiritual or not it's still a fun way to ponder life's questions.